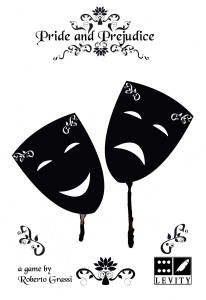 Role-playing and narration game for two players, using 2 six sided dice and some tokens.
 The players take the role of a couple of characters (non necessarily humans) and, through the narration, try to achieve the best for his/her character through pride (i.e. what they're sure for his/her character) and prejudice (i.e. what they're sure for other player's character).
The playing mechanism, based on seven playing scenes, switch the prevalent narrator, allowing the other players to oppose the narration and conveniently call for the end of the scene and go to dice resolution.
But… if the dice roll goes wrong, everything you wanted will be turned against you. The continuous escalation of stakes and results variability makes the playing not controllable by any player until the end.