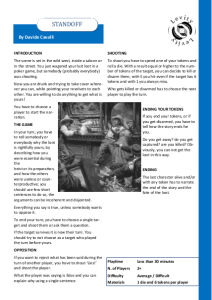 Thanks to the editing by Shae Davidson two new fast games are available in the "Narration Games" page.
Standoff, is a fast narration game, by Davide Cavalli, for 2 to many players. You just wagered your last loot in a hand of poker, and now realize that somebody (probably everybody) is cheating.
You are drunk and diving for cover wherever you can while waving your six-shooters at each other. You are willing to do anything to get what is yours!
---
Crosses, is a game for 2 to 4 players with two color pen. The players tell the story of two protagonists and the colored lines cross leading to a geometric painting with colored lines and areas. The player with more contiguous colored areas will narrate the endings.
Also download the [Playing Schema]